Facebook sues Chinese companies over trademark infringement
Post Time:2019-03-14
Source:THE VERGE
Author:
Views:
font-size:
Facebook has sued four Chinese companies for selling fake Facebook and Instagram accounts, alleging trademark infringement, breach of contract, and related offenses. The company announced the news on Friday, calling it "one more step in our ongoing efforts to protect people on Facebook and Instagram." It's an unusual move for Facebook, which says it already purges "millions" of fake accounts every day.
The lawsuit names three people and four companies based in the cities of Longyan and Shenzhen: 9 Xiu Network (Shenzhen) Science and Technology Company, 9 Xiu Feishu Science and Technology Company, 9 Xiufei Book Technology Co., and Home Network (Fujian) Technology Co.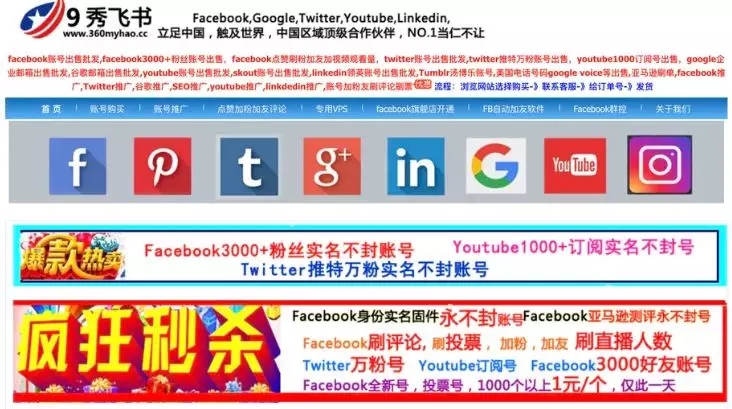 An archived page from myhaoba.com, one of the offending sites.

According to the complaint, these companies offer a variety of hardware and software services including bundles of fake accounts for Facebook and Instagram as well as other platforms like Twitter, Snapchat, YouTube, LinkedIn, and Google Voice. They also allegedly advertise services "designed to increase likes, comments, friends, and other activity," and they've promoted themselves with the made-up label "Facebook China Regional Strategic Partner," offering premium accounts that supposedly couldn't be suspended. The complaint names several websites, all of which appear to be offline, although TechCrunch says they were mostly functional when the lawsuit was filed on March 1st.
Facebook says these companies improperly used its trademarks and violated cybersquatting laws with confusingly named web addresses like "myfacebook.cc," "facebook88.net," and "infacebook.cc." Since Facebook and Instagram's terms of service prohibit fake accounts, it's also suing for breach of contract. It's asking the court to ban the companies from creating misleading sites or fake accounts and to award Facebook all of the profits made from these accounts plus $100,000 for each infringing domain name.