High-quality IP development efforts getting a boost
Post Time:2020-05-09
Source:China Daily
Author:Cao Yin
Views:
font-size:
China is strengthening efforts in high-quality intellectual property development while seeing a surge of IP-related registrations, according to an official at the country's top IP regulator.

Thanks to the fast growth of technological innovation and increasingly intensified protection on IP rights over the past few years, "China has become a nation with a large number of IP applications and is on the way to being more powerful by improving the quality of IP rights," said Shen Changyu, commissioner of the National Intellectual Property Administration.

While making the remarks at a news conference on Thursday about IP rights development held by the State Council Information Office in Beijing, he noted that the numbers of effective trademarks and patents have kept rising in the past decade.

Last year, for example, the Chinese mainland had more than 1.86 million valid invention patents and about 25.2 million effective registered trademarks, up respectively from 84,000 and 2.35 million in 2007, he said.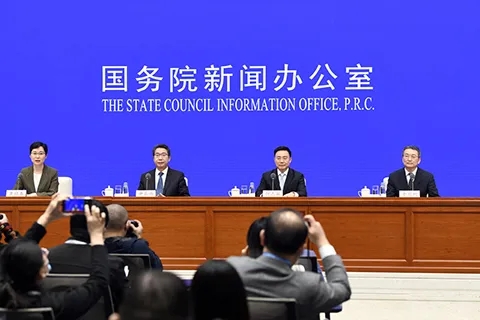 Shen Changyu, second from left, commissioner of the National Intellectual Property Administration, speaks at a news conference about IP rights development held by the State Council Information Office in Beijing, on April 23, 2020. [Photo/Xinhua]

The legal and administrative efforts in protecting IP rights and people's awareness of respecting innovation have been intensified and promoted, he added.

All the achievements could be regarded as a result of the Outline of the National Property Strategy issued in 2008, "and they also lay a solid foundation for our next step-to build a high-quality IP rights nation," he said.

He said the administration has completed a draft of another outline designed to help China grow into an IP powerhouse by 2035, "and we'll speed up the formulation of the document and submit it to the central government for approval this year," he added.

To better handle the soaring numbers of applications of trademarks and patents, the country has improved its examination efficiency in a bid to offer quick IP-related services for applicants, according to He Zhimin, deputy head of the administration.

"For instance, the average time for trademark registration has been reduced to 14.5 months, which could be the fastest in the world," He said. "Meanwhile, many services related to trademark applications and assignments can be finished online, and the examination procedures have been more transparent."

"We've also harshly cracked down on trademark squatting or hoarding to ensure the quality of the applications," he said, adding that a total of 39,000 improper trademark applications were revoked from April to December last year.

He told media the administration is further streamlining procedures for applying for trademarks and patents to provide more convenience for applicants and promote innovation.

"But fighting improper applications and regulating trademark agents will also be strengthened," he said.